Yes! This week I am on time DESPITE sending my questions to this weeks crafter last night DX

This week we have the lovely Gretchen from chichiboulie. Gretchen is french, currently located in Lille in northern France. Gretchen's work is filled with art in a very french style, which I love, and her shop is full of a wide variety of items from original paintings to little "Boulie Bags".

Since signing on to an agent Gretchen has tried to keep some sort of schedule going but does occasionally find that she has to drop anything in order to get a design or idea down on paper (something I think we can all sympathise with), occasionally her work requires a bit of research which can add to the time it takes to make everything, but other times she will have a day of total creativity and just let it roll.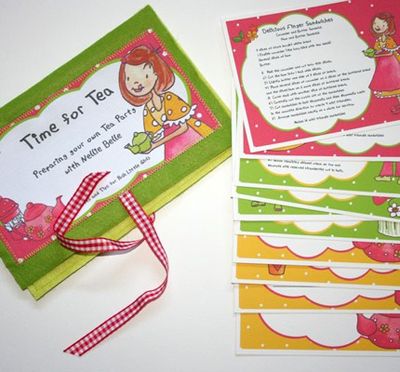 This is one of Gretchen's items featuring her character "Nellie Bellie". It is a little tea party planner set, featuring recipe cards, a blank invitation that can be photocopied, and cards explaining how to be prepared for the party.

Nelllie Bellie is an original character created by Gretchen, there are also some lovely Nellie badges on sale in her shop, who told me that Nellie was originally made for a project and "she just looked like a Nellie to me". Apparantly Gretchen loves naming things, along with giving her 3 children long names (from the sounds of it she just couldn't settle on one) she also comes up with names for all her characters, her fairies all have names as well, such as Eloise Greengrass and Isla Waterspring.




And this lovely little mirror features The Snowman and the Wee Mouse, I think the wee mouse is absolutely adorable! Sadly Gretchen has sold out of mirrors for the time being, but don't let that put you off visiting her shop as she still has lots of gorgeous items, from original art work to colouring books, birth announcements, and cards!

And as for Nellie's future? Well, I asked Gretchen if there were any plans to write and illustrate her own books featuring the adorable Nellie, and she has said that she would love to do a cookbook featuring Nellie, but it will have to wait until all her children are at school. So keep your eyes peeled, in a few years time there could be Nellie's Cookbook coming to a bookshop near you!

And now I insist that you all go and visit chichiboulie.