Okay, this week it is actually on time!

This week I am bringing to you jewellery! And very awesome, complicated-looking jewellery at that!

So say hello to Aranwen! I originally found her Deviantart page while hunting for things to add to my favourites. She's Greek, currently located in the ancient city of Athens. Her jewellery has a lovely gothic look, with cameo brooches, chokers, and earrings to make any Goth want to blow their entire pay packet then and there.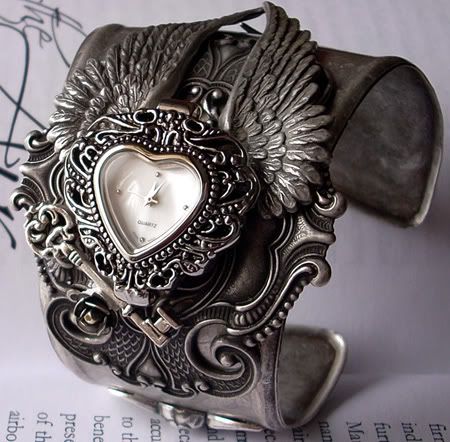 This is the piece on DA that caught my eye and I think you can see why. This is a gorgeous watch/cuff made using silver plated brass. Despite being stuck to the cuff the watch inners are still accessible so a jeweller can replace the battery when it eventually wears out. The cuff part is also stamped on either side and there is a little key underneath the heart shaped watch piece, making it both romantic and elegant.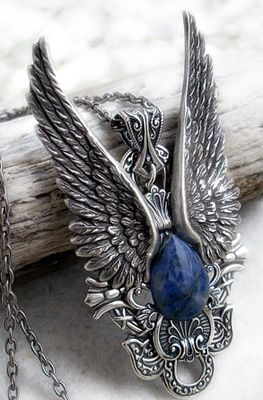 And here we have a lovely necklace made with silver plated brass and a lovely piece of blue sodalite. I love the shape of the wings around the blue centre, the colour of the sodalite goes really well with the silver of the piece around it. This piece has sold but she also has a lovely red one and a black one still available.

Making each piece takes a week according to the creator of these lovely pieces. She uses stampings and findings, starting with a base and building the whole thing up layer by layer, the glue that secures it all together takes 24 hours to dry so a very complicated piece could easily take longer than a week to put together.

And remarkably, she simply compiles the pieces that she thinks will match well! So that's no sketching out the design before hand, she just gets up and goes! I wish I could do that with my jewellery XD

And now you must all check out her Etsy shop to see the rest of her lovely jewellery (I highly recommend you check out the cameos).