Since joining Etsy I have seen quite a lot those "scrabble tile" pendants around. They always look lovely, although I tend to be a tad put off by the fact that they're made using scrabble tiles because who wants a letter on the back of their pendant? My necklace flips around all the time and I'd rather had it looking blank than showing something that could confuse, and that doesn't look very nice.

So you can imagine how thrilled I am to find someone that doesn't use scrabble tiles, but still makes beautiful pendants! While posting on Etsy I came across Vibedesigns.

Located in Sydney, Vibedesigns makes round and long rectangular pendants using an acrylic base to which she adds paper and then covers it with a layer of resin to make it shiny. Once it is all finished she attaches it to a silver chain, and it's ready to be sold. In total making each pendant takes an hour but the resin requires a full day to dry properly, that's a long wait, if it was me I'd be constantly running back to check if it was done yet XD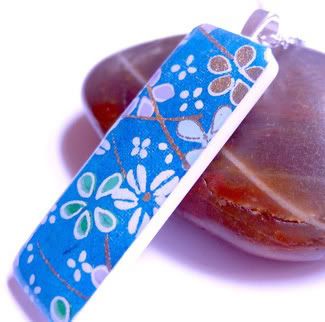 I love the shade of blue in this pendant, it's so bright and cheerful that I don't think it could help but make you smile whenever you put it on, and the flowers give it a delicate, graceful touch.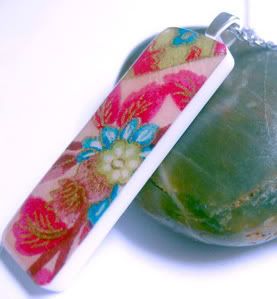 As for this pendant, found under the title "Indian Dreams", the mixture of soft shades of pink with the cool splash of blue from the flower would make it the perfect accessory for summer parties and barbeques.

Her shop link is above and she also has a blog, I highly recommend you check out both ^_^