Okay, I completely forgot about this last week XD surprise surprise.

But I have got a real treat for you guys to make up for this! I have added a new DeviantArt account to display my jewellery on and as a result have recently been browsing the other photos in the Artisan Crafts section, where I found this week's crafter!

ChaeyAhne an artist from the USA, who along with drawing, also makes the most gorgeous feather quill pens! She uses different types of feather, such as white goose and swan, along with beads, crystals, gemstones and fine handspun threads.

I honestly have no idea how long it takes her to make each one but at a guess I'd say several hours at the very least. The attention to detail in each one makes them completely exquisite, all you would have to do is pick one up to feel like a proper writer, especially around NaNoWriMo time.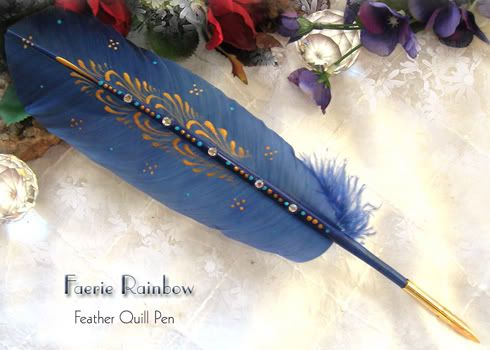 This one is my absolute favourite because I LOVE that shade of blue. It is made with a vintage millinary feather, with hand painted gold decoration and crystals along the center.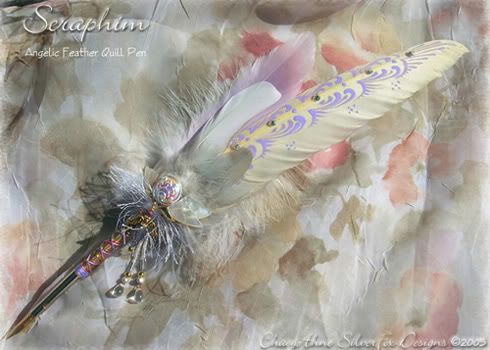 And I simply had to include this one because it was the one that caught my eye! This one has been made with a vintage goose quill with mute swan and dove feathers added. The little blue-violet decoration up the feather itself is simply exquisite and really makes the whole thing stand out.

Sadly ChaeyAhne doesn't have an Etsy site, but she does have her own online shop with a large number of these gorgeous pens, I highly recommend you all check them out!