Time again for a new Featured Seller, and this week I have dived in to the world of clothing!

I found delguidicestudio (aka, the shop with the difficult to pronounce name) while reading an Etsy forum thread about quitting your day job. Delguidi posted to say that she hadn't jumped in to quitting her day job, but as a victim of a economic problems she had been pushed. After losing her job as a restoration specialist and artefact handler for museums in San Diego, and finding that getting so much as a waitressing job would be nearly impossible, she took the plunge.

Her shop is, at the moment, a little sparse on the ground with 35 items for sale (I know that's a bit rich coming from the person who only has 15 in her shop, but I haven't quit my day job for anything yet XD), but all of them are gorgeous. Dresses, sleep mask, tops, scarves, and a few oil paintings, as well as the odd piece of jewellery too.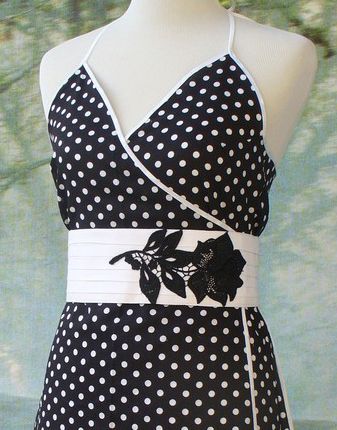 This gorgeous dress is described as a "pontina wrap". It's made with 100% cotton black and white polka dot material and has a lovely wide belt with a rose appliqué. It ties at the back of the neck like a halter-neck, and looks simple but absolutely gorgeous. And if you like the dress but not the belt, or like the belt but don't fancy the dress, delguidi states that she is happy to sell them separately!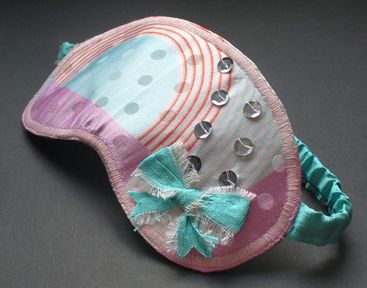 And this is a "Dopo Puccini" facemask, made with 100% silk! Lets face it, there isn't a whole lot more that will feel good against your skin, and with this over your eyes I think getting to sleep would suddenly become a whole lot easier! Plus I love the gorgeous little bow in the corner.

delguidicestudio has only been an Etsy member since May 2009 and she already has 5 sales! I highly recommend that you hop in and buy something from her now, before she becomes too flooded with work :D