And I'm back again!

Today I went out with my sisters to get blackberries and conkers. The blackberries because my youngest little sister picked some this morning while my Dad cut down branches in the back garden, and conkers because they keep spiders away and our house seems to be full of the 8-legged monsters at the moment.

We ended up spending nearly 2 hours wandering around our village collecting both. Youngest sister got stung by a stinging needle, I got cut several times by thorns on the blackberry bushes, and eldest little sister is now coming down with a cold.

I am now also really tired, blasted country air has worn me out. The blackberries are apparantly going to be used to make sauce for Dad and youngest little sister to have on ice cream, while I am going to be drying the conkers out in front of the Aga tonight.

Did you know that if you search for "conker" on Etsy you get a grand total of 7 results?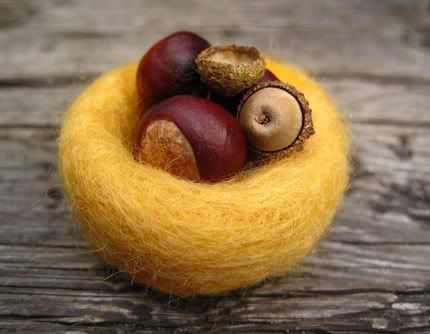 This felt pot was made by the UK Etsian cityroad, who also has some great felt badges in her shop!

Oh, and now for BIG news! I WAS FEATURED IN A BLOG!

I'm donating a percentage of my profits from various items in my shop to the Motor Neurone Disease Association, and The You And Me Show picked me as someone to feature on their blog! So go check them out as they've also got a great charity project of their own, Art = Food.

I am both tired and hungry, and I really love autumn :D