Yes yes, long time no see, and all that jazz.

Plenty of you know me as a person on Etsy but there is a whole big internet out there and Etsy isn't the only website I browse.

One of many forums I frequent is GaiaOnline, and it was on this forum that I met an artisan who I know as "Naki" XD She's a graphics artist by trade but she also dabbles in jewellery and once I saw her shop, Koana, I just had to include some of her beautiful things on this blog!




First things first, a very pretty phone charm! The stars are origami paper, folded in to shape and hand painted before being sealed with gloss and a fixative spray so they should hold up during everyday use. The other glittery bits are pealised beads and swaroski crystals and the whole thing is absolutely gorgeous!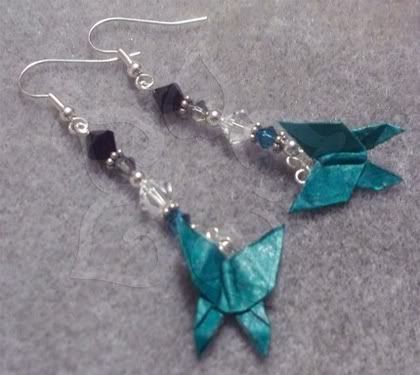 These gorgeous butterflies are another example of origami work! The butterflies were made using vellum paper that was again hand painted and sealed with spray before being attached to more crystals. I just love how delicate they look, and according to the listing you can request them in other colours as well, so if turquoise isn't your thing then contact Naki and she'll do her best to do them in a colour you like :D

Along with the Etsy shop she also has a shop on Zazzle where she sells her gorgeous designs on t-shirts!

Merry Christmas everyone!