So the other day there was a huge amount of money going in the EuroMillions lottery draw, £113 million to be exact. I think everyone will agree that that is a life-changing amount of money. Well, right now I think £5000 would be a life-changing amount of money for me but that's beside the point. With a win like that you wouldn't need to work again if you didn't want to.

So I got to thinking what I would do if I did win (I did buy a ticket, and ended up winning nothing, c'est la vie). And one thing I would spend my money on would be a flat. Not sure where, I'd possibly give living in London a try, even if it was only for a year. And then of course once you have a flat you need to furnish it, so my next job would have been...well, spending a huge amount of money on Etsy XD

Once I discovered that I hadn't won so much as a bean I spent several hours consoling myself by browsing Etsy to see what I could have bought if Lady Fortune had been smiling at me. And this has then triggered my new blog series, IWTIMH, or "I Want That In My Home".

So today I bring you the first room that you generally find in a house, the living room. This was meant to be one blog post but it ended up being quite long, so I have split it in half. You get the first part today, and the second part on Wednesday!

Oh, before we start I should actually warn you about my slightly insane colour-coordination. Or rather, my lack of it. When I do eventually own my own place I suspect everything is going to look a little higgledy piggledy and very mis-matched, that's just the way I am. And in order to save some sense of taste, let's just assume that all the walls are white and all the floors are uncarpeted, 'kay? XD

So, the first thing you need in your living room is somewhere to sit.




This gorgeous couch is currently available in sprucehome, an Etsy shop located in Austin, Texas. This sofa is expensive but completely worth it, I love the whole "Victorian" look and this couch looks gorgeously stylish. Plus I have £113 million so money really wouldn't be an issue XD

And to complement my lovely white Victorian couch I would like...




A very colourful armchair. Okay, I'll admit, going from Victorian to something with a Hippy feel is a bit of a leap in sense and style, but look at it! I love the combination of colours and the large flower pattern. This was hand-dyed and painted by MimzieD, who appears to take vintage furniture and then add her own flair to it (check out the side table as well). Failing that I'm going to need a house rather than a flat, a house that is big enough for me to have multiple living rooms.

Right, what do you need on your chairs and sofas? Cushions! And I really wish I had money right now because I REALLY want these three cushions XD They are simply fabulous!




First we have this gorgeous Union Jack cushion from Helkatdesign. She has other Union Jack ones in other colours in her shop but I'm a real sucker for shades of blue.




Probably a better candidate for Valentines Day but I don't generally believe that heart patterns should stick to that one day. Plus I think it would go well on my Victorian couch XD Check out PoorJean for more cushions, as well as towels, bags and some vintage bits!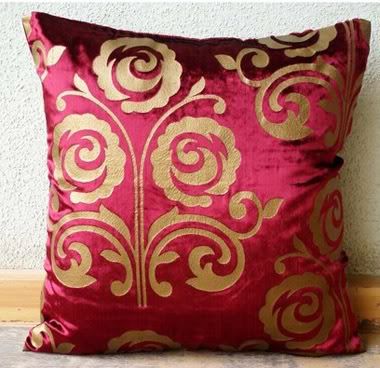 And last, but certainly not least, this gorgeous ruby and gold cushion comes from TheHomeCentric. Her shop is simply stuffed with gorgeous cushions, placemats and table runners and I could quite easily buy her entire stock with my £113 million, even if I ended up giving most of the stuff to friends (well I do only have one sofa after all XD)

And that is the first half of my living room. I will (I WILL WILL WILL!) post the second half up on Wednesday :D See you then!