Crikey, I managed to remember to actually do this! I'm going to give myself a round of applause!

For those that missed last Sunday, I am currently running a new blog feature called "I Want The In My Home", going from room to room in my imaginary house. This idea came to me after I failed to win £113 million in the Euromillions lottery. Had I won I would have spent an insane amount of money on Etsy XD So instead of shopping, I am merely window shopping, and dreaming, and blogging about it all.

So today we move on to my imaginary kitchen! Obviously I imagine buying a fridge or cooker or kitchen cupboards would be rather difficult on Etsy, unless you want to buy vintage which I don't (no offence to vintage sellers but I'd rather have a fridge that doesn't need repairs every other week XD) but there are plenty of little things you can buy to make your cooking area more like a home and less like a small canteen.

Let's take teatowels as an example...




These gorgeously bright teatowels are by the California-based SommerDesigns, her shop is full of brightly coloured things from the towels above, to aprons, zipper pouches and bags, and with lots of gorgeous patterns as well.




And when you're cooking you need something to protect your clothes and in my case I would like this gorgeous one! Handmade by the apronqueen, as you can tell by her name her shop deals exclusively in aprons. But don't let that make you think her shop is dull because it certainly isn't! Along with adult aprons like the one above she also sells childrens aprons and really cute "half aprons", all of which look fantastic!

And obviously you need something to eat foot off!




This lovely plate is from the shop of chutneyblakedesigns, a Dallas crafter whose shop has not only plates but beautifully decorated ceramic photoframes and coasters, including custom-made ones for your college, and flower pots, with animal and floral prints and polka-dot patterns.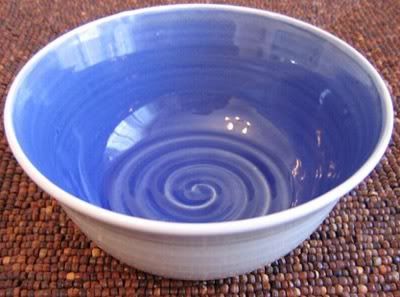 I will be the first to admit that this bowl does not match the above plate in the slightest XD But if you haven't noticed my eclectic colour choices by now then you aren't really reading this blog properly. This beautiful blue and white bowl is was made by KarinLorenc, whose shop is all pottery! Bowls, mugs, casserole dishes, jugs, all in simple but bright colours.




And then finally we have this gorgeous pink and white floral pattern cup and saucer (for my tea!) are from AmongstLovelyThings, she hand paints a variety of pottery, plates, mugs, coffee pots and serving trays, with butterflies, flourishes and other lovely designs.

And that is all for today! The second half will be up on Wednesday and features some yummies!