It's Sunday, and you know what that means! Today we're moving on to bedroom!

To anyone new to this, I am currently running a series of blog entries on the theme of "I Want That In My Home". If I ever win the lottery, I am going to be going on a VERY big shopping spree on Etsy XD You will also notice that I have no sense of matching styles and colours and I tend to be fascinated by both vintage and modern.

So, bedroom, first thing you need is a bed to sleep in!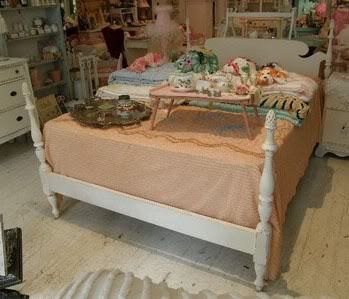 I'm assuming this bed doesn't come with all the stuff on it XD I love the carved bed posts! This bed is in the shop of VintageChicFurniture, a New York shop that also sells gorgeous vintage furniture on Etsy. Along with beds they have dressers, antique bookcases and even an antique baby cot!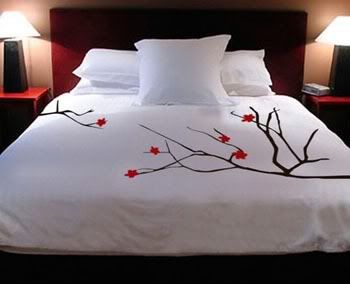 And on your bed you need some sheets. I'm a total sucker for oriental themes like cherry blossoms, and this elegant set is from UrbanAccentHome. This shop also has wall decals, chandeliers, and other beautiful items to jazz up your home!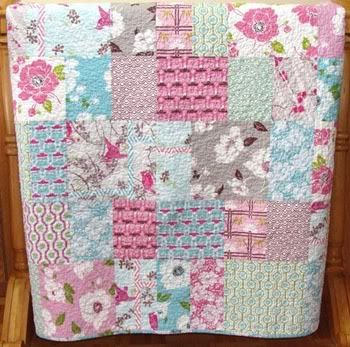 Admittedly I already have a patchwork quilt which my Mum made when I was a child, but if I didn't I would love to have one like this, made by Quiltville. As the name suggests the shop is all about patchwork quilts, from lovely pastel ones like the one above, to bright zesty colours, and she sells patterns so you can make your own!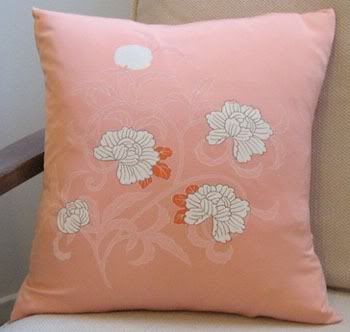 And finally I want another cushion to go on my bed (along with pillows). And for my bedroom I have one that at least fits in with the duvet pattern XD This elegant cushion is created by DimmalimmHome out of kimono silk!! There's more in her shop, which also has slip-on coasters for glasses.

And that's it for today! As before, check in on Wednesday for the second part :D See you then!