I have decided to do one of those "Featured Crafter" things that so many bloggers do. I hate following the crowd (which it why it took me 2 years to read the DaVinci Code and why I refuse to read the Twilight series) but I decided that I just HAD to after today's discovery!

So, with any luck (or if I'm not too lazy) this will become a regular, or semi-regular, Sunday event.

Right, on with the story! I was browsing the Artisan part of DeviantArt when I came across this amazing mask maker, Merimask. Her work is just mind blowing, the amount of time and detail that she puts in to each creation is astounding, she must have the patience of a saint!

When I saw her work it made me think of the lovely masks you see in Venice. I've got one that's blue and silver was bought from a touristy shop XD my Dad has a lovely one in cream with this pretty musical note pattern covering it that he bought from a darling shop down a little alley next to one of the canals (I hated the canal part of Venice, I had visions of my sisters falling in to them DX). But I have no idea what mine or my Dad's ones are made of (I assume some sort of paper mache thing for mine), Merimask's ones are made of leather!

On her DA page she has two links to her journal describing her process for making each mask (over 10 hours, ouch!) and the way it all comes together is pretty damn cool. Like I said, she must have the patience of a saint (I could never do it as I'd get bored after an hour XP). Here are two examples of her work, from her DA gallery (I had to trim and resize them a tiny bit)...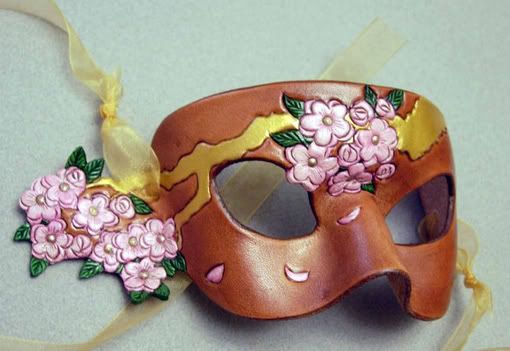 I love the simple elegance of this one, although she does say that carving the blossoms too "forever" which is why she only made this once, and who can blame her?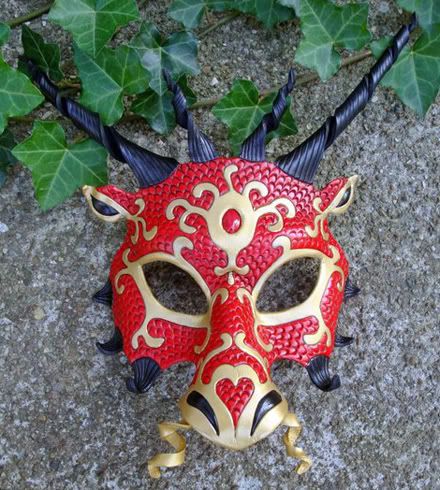 And this one I like because of all the detail she's done with the scales, and the fact that it's such a gorgeous shade of red. And apparantly it appeared on stage in Japan last year! How fabulous is that?

And now I suggest that you all go visit her Etsy shop!